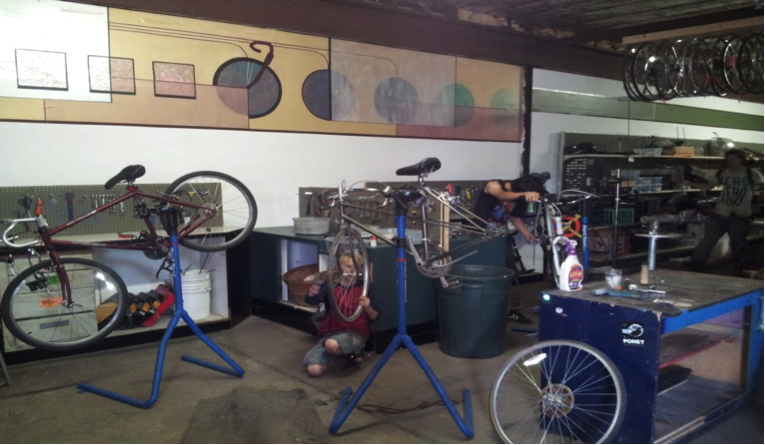 AS IS BIKE SALE
August 6th 10am-5pm
Bikes are in various states of repair, different sizes, styles, and brands. Cost of bikes range from         $5-$100 and are sold as is. Freewheel has a ton of free and for sale parts to choose from should your               bike need repair. We also offer free bike maintenance classes and a paid service option.                   Check out out ad on Craigslist or "like" us on Facebook to keep up with our classes and sales!
Fixing it Ourselves class also back!  Most Wednesday Nights 6pm.  Go to Classes page for details.
Freewheel is a nonprofit community bicycle workshop run by volunteers with a range of bicycle skills that shares space with Bike Right, Inc. a used bicycle sales and repair shop. We offer free repair classes, as well as open shop hours. Anyone can come and participate during our open shop hours . You can bring your bike and repair it or tune it up using tools and parts from the shop. You can build a whole bike from scratch and get help from the volunteers. You can be a volunteer and help someone less knowledgeable with their bike, or teach someone the skills you just learned, or just help organize. Freewheel accepts bikes, bike parts, tools, supplies (lubricants, patch kits, etc.), and monetary donations. If you can't afford a donation (and we know not everyone can), then please help keep the shop going by working on a project for the shop that fits your skills. These can range from sorting parts and stripping bikes to just cleaning up. Happy biking! Please take a couple minutes to fall in love with us, we always need new volunteers to spread the word and help out with the shop. No bicycle experience is required.
---